The Arrowhead Youth Soccer mission statement says in part; "AYSA is an organization built on respect. AYSA affiliated adults, players, and officials behave in ways that reflect the value, dignity, and equality of everyone in the soccer community, as well as the community at large." Therefore, AYSA stands against racism and inequality and stands with those dedicated to eradicating racial disparities. We believe that diversity and respect for all are key strengths of our soccer community.  We ask that all members of our community speak out when confronted with racist language or behavior on and off the field. We ask that AYSA clubs and teams foster diversity by offering a welcoming and supportive environment for all players, coaches, officials, and families, regardless of background. We ask that players, parents, and coaches unite to be the change that is needed to eradicate systemic racism. We stand with and support members of our community that peacefully speak out against racism in all forms.  At AYSA, we value and respect all of our soccer families and support you in this most challenging of times.
For more information on how our soccer community can be better allies in the fight against injustice, please explore the resources at these websites.
The Sanneh Foundation:
https://thesannehfoundation.org/
US Soccer United Against Racism:
https://www.ussoccer.com/unitedagainstracism
United Soccer Coaches Anti-Racism Resource Page: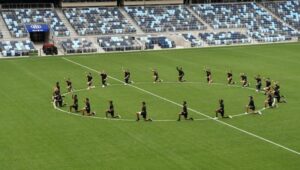 Minnesota United players took a knee at midfield during team training to show solidarity to fight racism and social injustice.